JAROMÍR AT THE GRANDHOTEL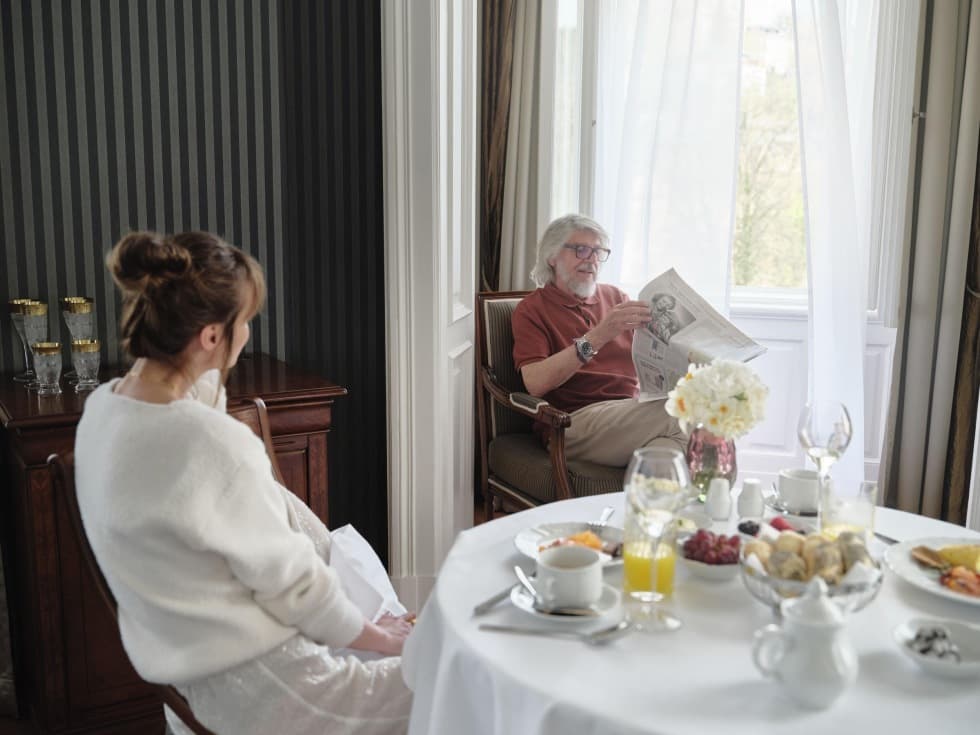 A simple t-shirt, two jackets, a cage with a
parakeet and off we go
Jaromír scheduled the last Monday meeting for the noon. He does not like to be stressed before the trip itself. He therefore prepared in advance. His favorite simple T-shirts are not missing in his bag for a four-day stay in Karlovy Vary, where he is going with his wife Naďa. And jackets. He packed two, one more sporty and the other one elegant. This combination is always enough.
Cafe bums in the town
Jaromír and Naďa like coffee and also various businesses, restaurants or bistros. "We're typical cafe bums and we enjoy being able to evaluate interiors. After all, we have already designed a few of them
ourselves," says architect Jaromír during the Tuesday morning walk through the town, which follows
immediately after a hearty breakfast.
Right before that Jaromír lights up his first morning cigarette in front of the hotel. It is his favorite ritual. After that they walk along the river Teplá towards the center of the town, where they enjoy coffee in a renowned espresso bar.
There is no time to waste time. Jaromír and Naďa start their third day at the Grandhotel Pupp quickly. After breakfast, where they both can't get enough of the little fluffy pancakes, they head into town. Wednesday is for admiring the local architecture, specifically the Thermal Hotel. The reason is simple. Jaromír was born in Karlovy Vary, and it was this building, designed by renowned architects and husband and wife Věra and Vladimír Machonin, that influenced his further career direction.