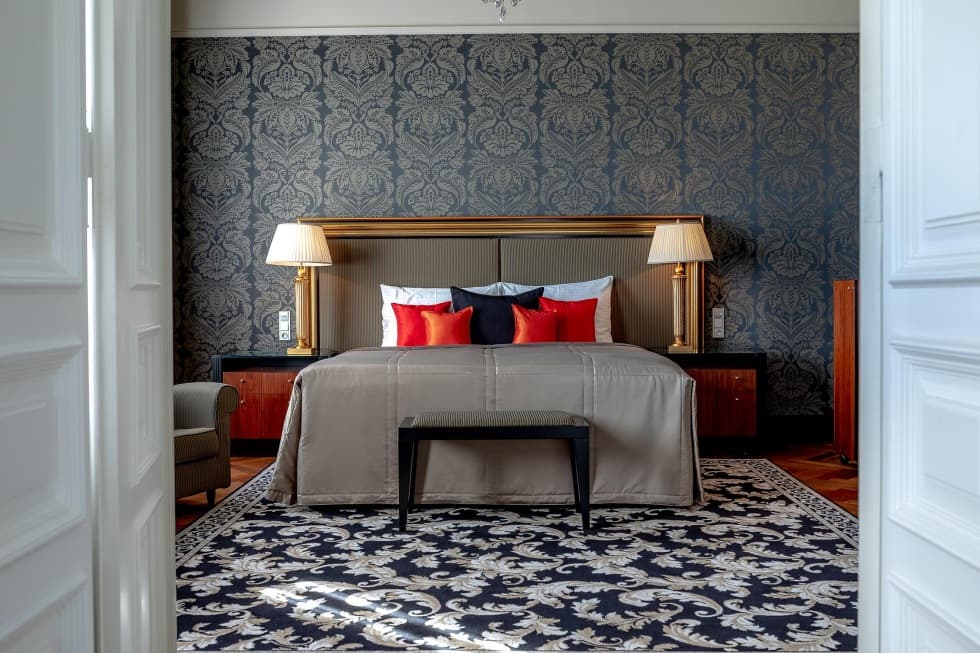 Each one is unique
Today's appearance of the Grandhotel Pupp is the result of the gradual merging and reconstruction of the buildings that the Pupp dynasty has acquired over the course of three centuries. Because of this, each room is unique and in the hotel no two rooms are completely identical.
Riverside Building
The main neo-baroque part of the hotel has served as a social meeting place since 1894. There are hotel restaurants, spa and 111 rooms, including the most magnificent – the Imperial and Presidential Suites, which regularly host the stars of the film festival.
Parkside Buiding
The oldest part of the hotel was founded in 1877 on the original Pupp Avenue. Its centerpiece is the Marble Hall, where breakfast and dinner are served. All 117 rooms represent the most affordable accommodation option in the hotel, and are therefore an ideal choice for larger groups or long-term family stays.
Double Comfort Rooms are the most affordable in the hotel. They differ in style, have an area of 25 sqm, a comfortably furnished bathroom overlooking the forest or park and located in the Parkside part of the hotel.
All rooms meet the five-star standard, with 24-hour room service, dry cleaning and shoes shining, free access to the hotel spa and other services.
ATM
Bar
Swimming pool
Daily Press
Pets (surcharge)
Secured parking (surcharge)
Airport shuttle (surcharge)
Non-smoking areas
Hotel shops
Room Service
24-Hour Front Desk receptionist
Restaurant
Elevator/lift
Free Wi-Fi
Business Facilities