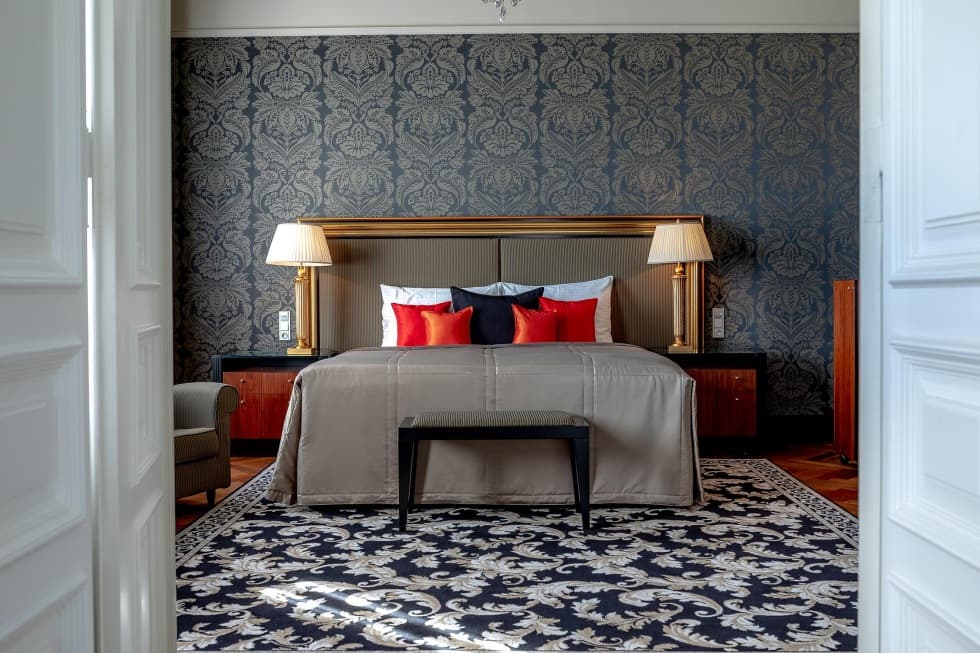 In a word: Exceptional.
The Grandhotel Pupp is an independently owned hotel that does not belong to any network, and therefore still maintains a unique atmosphere that has enticed the most demanding clientele for centuries. Each of the 228 rooms and suites at the historical hotel building are uniquely different.
Riverside Building
The main neo-Baroque building of the hotel has been in operation since 1894. On the four floors there are a total of 111 rooms, including the most luxurious – the Imperial and Presidential Suites, which regularly host the stars of the film festival. The rooms overlook the colonnade, square, river, forest or park. On the ground floor there are the restaurants Malá dvorana, the Grandrestaurant and Café Pupp. The entrance to the spa with swimming pool, wellness center and treatment procedures are located on the second floor. Through the third floor you can enter the Harfa building, where the massages take place.
Parkside Buiding
The oldest part of the hotel was founded in 1877 by the original Pupp alley. There are 117 rooms on four floors overlooking the park with a view of the small river or the wooded slopes of Diana. They represent the most affordable accommodation option at the Grandhotel Pupp and are therefore an ideal choice for larger groups. The building also has its own reception and breakfast hall. A corridor connects it to the Riverside building, which houses restaurants and spa. From there you can also enter the Festive Hall and Becher's Bar.
Double Comfort Rooms are the most affordable in the hotel. They differ in style, have an area of 25 sqm, a comfortably furnished bathroom overlooking the forest or park and located in the Parkside part of the hotel.
All rooms meet the five-star standard, with 24-hour room service, dry cleaning and shoes shining, free access to the hotel spa and other services.
ATM
Bar
Swimming pool
Daily Press
Pets (surcharge)
Secured parking (surcharge)
Airport shuttle (surcharge)
Non-smoking areas
Hotel shops
Room Service
24-Hour Front Desk receptionist
Restaurant
Elevator/lift
Free Wi-Fi
Business Facilities