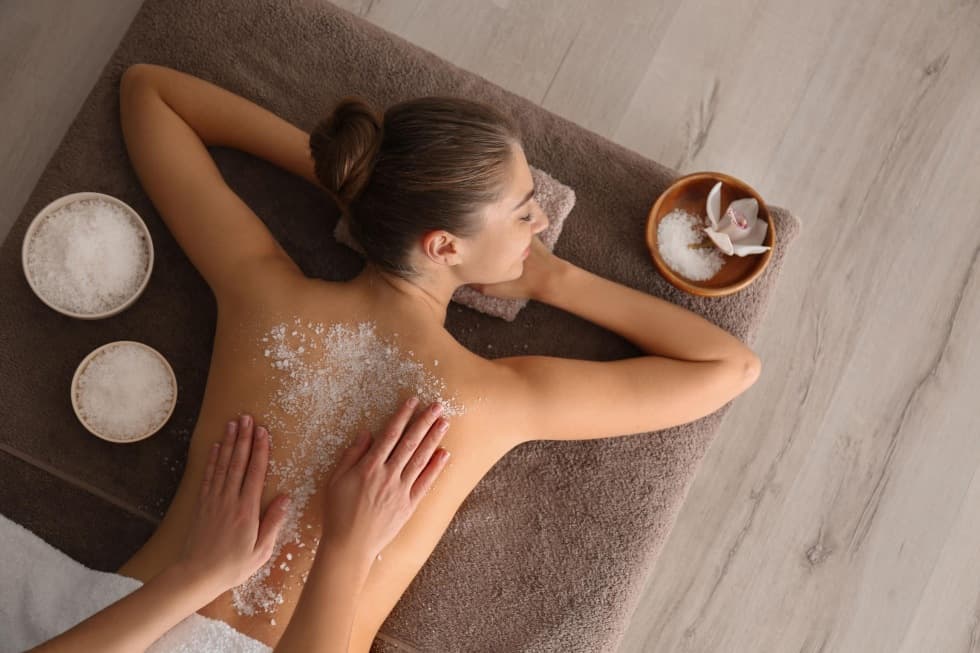 Perfect regeneration
Treat yourself to a cleansing treatment that relieves muscle tension, visibly brightens the skin thanks to exfoliation and washes away all stress. Scented detoxification therapy pampers your body and makes it easy to forget the daily hustle and bustle and feel a pleasant surge of energy. In addition, treatments that focus on problematic areas will leave your skin perfectly soft and smooth.
Anti Fatigue Back Therapy 60 minut
Shut the door on the world outside with this miracle treatment created to alleviate tension in the back, neck and shoulders. After a self-heating, effervescing mud mask releases muscle stiffness and stress, you'll further slip into a world of bliss with a back massage. Both energizing and relaxing, this stress-boosting treatment leaves the whole body with a complete sense of well-being.
Mineral Body Polish 60 minutes
This soothing treatment begins with the application of a body oil of your choice and is followed by an incredible exfoliation with mineral salt peeling. It provides a calming effect, releases stress and purifies, leaving the skin ultra smooth and glowing
Resilience Ritual 105 minutes
The special treatment starts with soothing body exfoliation and wrap, followed by face care which takes your skin on a journey of rebalancing body and mind. A gentle body massage and soothing facial-drainage technique eliminate toxins and ease away stress, leaving you looking years younger and wonderfully radiant. The therapist gently stimulates particular areas of the face and body to drain, detoxify, relax and revitalize. Visible results are achieved by combining energetic drainage with cutting-edge methods such as cryotherapy.
Manual Cryo Lipolisis 90 minutes
Powerful cryotherapy techniques ensure immediate results: your legs feel refreshed, your skin will be more even and skin contour will be firmer. A special anti-cellulite massage technique and specially formulated body care helps to improve the appearance of slackening skin and reduce the loss of firmness and elasticity. It has an immediate lifting action and long-lasting firming effect.