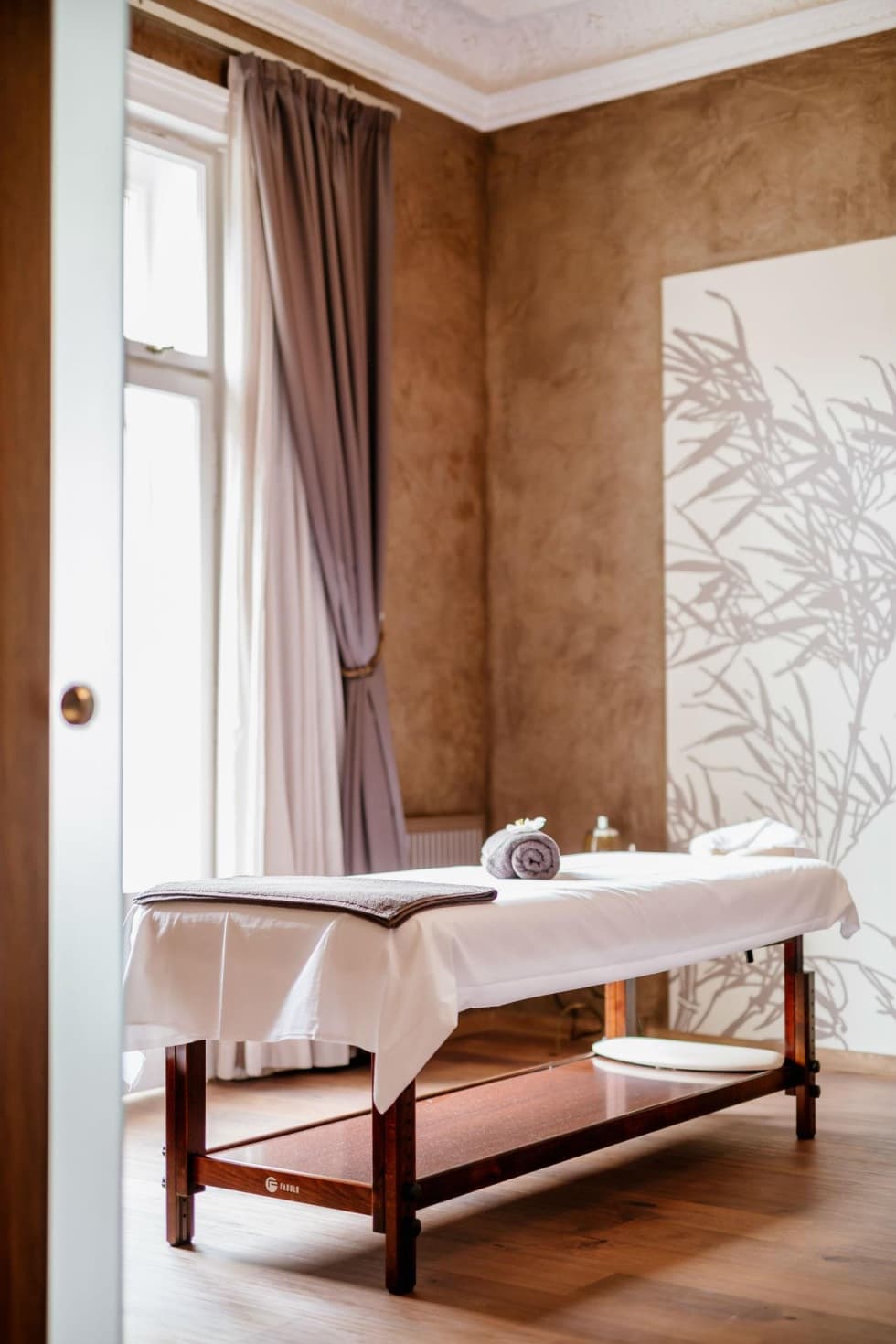 The best of a century tradition
The spa tradition of Karlovy Vary really invites you to experience treatments that effectively combine the healing power of water, traditional methods and modern technologies. Organic peat supports blood circulation and relaxes muscles, spring salt hydrates and softens the skin, and a mixture of herbs relieves mental and physical tension. Enjoy relaxation in the spa style that even our most famous guests have fallen in love with.
Peat Bath and colloidal Gold Face Mask 20 minutes
A water bath with added peat combines the benefits of warm water and organic substances found in peat. It promotes blood circulation and muscle relaxation. It also helps to improve range of motion and to relieve inflammation. A pleasant feeling of contact with natural healing sources provides a total relaxation. Face mask with Peat and Colloidal Gold increases skin elasticity, improves tone, boosts blood circulation and treats sun damage. It is perfect for mature, dry or sensitive skin.
Peat Bath with Hemp Oil Face Mask 20 minutes
Peat bath combines the beneficial effects of hot water and organic substances from peat. It strengthens blood circulation and helps muscles to relax. Another benefit is improved mobility and alleviated inflammation. Peat face mask with hemp oil contributes to the balanced condition of the skin and its hydration, so it is ideal for oily or combination skin.
A pearl bath is carried out in a bath with air jets and salts from Karlovy Vary hot spring. The air that enters the mineral water creates small bubbles (small pearls) that gently massage the skin. It improves blood circulation and relaxes the muscles. Water temperature: 37℃
Herbal Oil Bath 20 minutes
A relaxing bath with natural ingredients containing a highly concentrated extract of herbs and wildflower mixtures typical for the Karlovy Vary region. This bath soothes the nervous system and releases tension. Water temperature: 34-37℃
Hydromassage Bath 20 minutes
Hydro massage benefits your body and mind, bringing total mental and physical relaxation. The bubbles stimulate and activate the lymphatic system, helping the drainage of liquids in tissue and combating the much feared cellulite and other beauty problems caused by the accumulation of fat. Water temperature: 37℃
Aquai Therapy - Dry Bath 20 minutes
Dry water massage is designed for both relaxation and rehabilitation. Aquai relieves muscle tension, alleviates pain, increases blood circulation and promotes a state of deep relaxation.
Oxygen Therapy 50 minutes
Regenerating treatment in which moistened oxygen is inhaled in a much higher concentration than its usual occurrence in the air. It affects the whole organism, regenerates and increases physical and mental condition. Pure oxygen elevates your activity and mobility. Regular use of oxygen therapy can significantly improve the quality of life.
Paraffin is an intense heat therapy, which, like other heat therapies, increases blood flow, relaxes muscles and decreases stiffness. The added bonus is that the wax hardens, creating a shell that traps the heat in with no place to go except down into the surface of your skin. Heat also opens the pores in the skin, allowing hand care products to penetrate deeper into the skin layers, making the treatment more effective.
Andullation Therapy 20 minutes
It is based on a combination of alternating and pulsing vibrations and deep infrared heat. This heat allows the vibrations to penetrate deeper into tissues, which boosts the curing effect in the entire body. It improves blood circulation and metabolism and is recommended for chronic diseases such as arthrosis, stiff neck muscle, migraine etc. This treatment is a must for people with symptoms of a burnout syndrome.
Halotherapy is an alternative treatment that involves breathing salty air. It helps to treat respiratory conditions, such as asthma, chronic bronchitis, and allergies. The dry method of halotherapy is done in a man-made "salt cave" that is free of humidity.