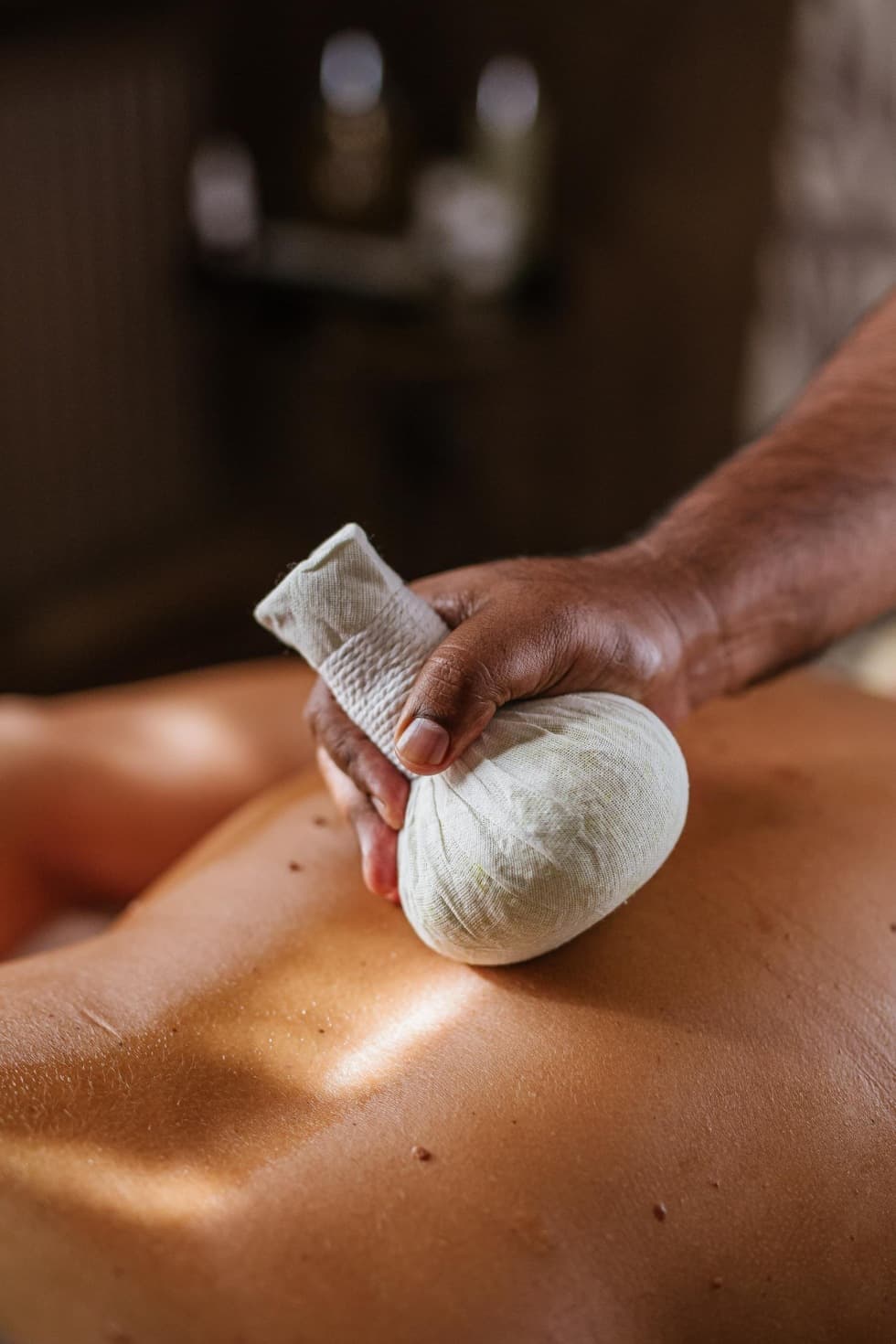 Ayurvedic massages are based on ancient Indian doctrines and aim at total relaxation, support of blood circulation, detoxification of the whole body and its balance. In addition to the massage technique itself, special massage oils are selected to be beneficial, both according to the desired massage effect and the constitution of a particular person.
Abhyanga Four Hands Massage 60 or 90 minutes
Experience an extremely relaxing four hands full body massage. Two therapists perform the treatment in unison with synchronized movements. This is the perfect therapy for a busy mind, to disconnect from the world and to relieve muscle tension.
Abhyanga Massage 60 or 90 minutes
Abhyanga is an essential ayurvedic full body massage that releases muscle tension, relaxes tendons and joints. At the same time it significantly affects the lymphatic system, blood circulation and immune system. Oil helps to unwind the mind and improves the quality of sleep.
Shirodhara Four Hands Massage 90 minutes
Treat yourself to a four hand massage that goes along the side of deep relaxation and perfect care. Two therapists perform the treatment in unison with synchronized movements. These massage techniques release muscle tension, calm the mind, reduce stress, anxiety and awaken intuition. The feeling of perfect calming is then evoked by a trickle of warm herbal oil, which the therapist lets run down the forehead from the place of the so-called "third eye" to the top of the head.
Shirodhara Massage 90 minutes
Shirodhara is considered as the most relaxing Ayurvedic treatment. Warm oil running down the forehead in the place of the so-called "third eye" and gently spilling to the top of the head, brings soothing sensation to the mind and body. The steady pour of warm, herbal oil, begets calmness, facilitates relaxation and promotes tranquility. At the same time, it nourishes the scalp and the hair, leaving it looking healthier and shiny.
Pinda Svedan Massage 90 minutes
Pinda Svedan combines ayurvedic full body massage and heated herbal poultices filled with a mixture of special herbs and rice. The therapy significantly improves blood circulation, warms up and releases muscle tension. The treatment is perfect for people who feel cold.
Ayurvedic face massage takes care of the skin, reduces stress and improves your well-being. Neck and shoulder massage clears the mind from daily routine. The face treatment boosts production of your natural collagen and lifts the skin. Rose water and a herbal mask calms down the skin and has an anti-inflammatory effect.
Children's massage 20 minutes
Ayurvedic massage for children from the age of 6 months. The treatment contributes to the child's proper development and restful sleep. The oil used in the massage is suitable for sensitive baby skin.