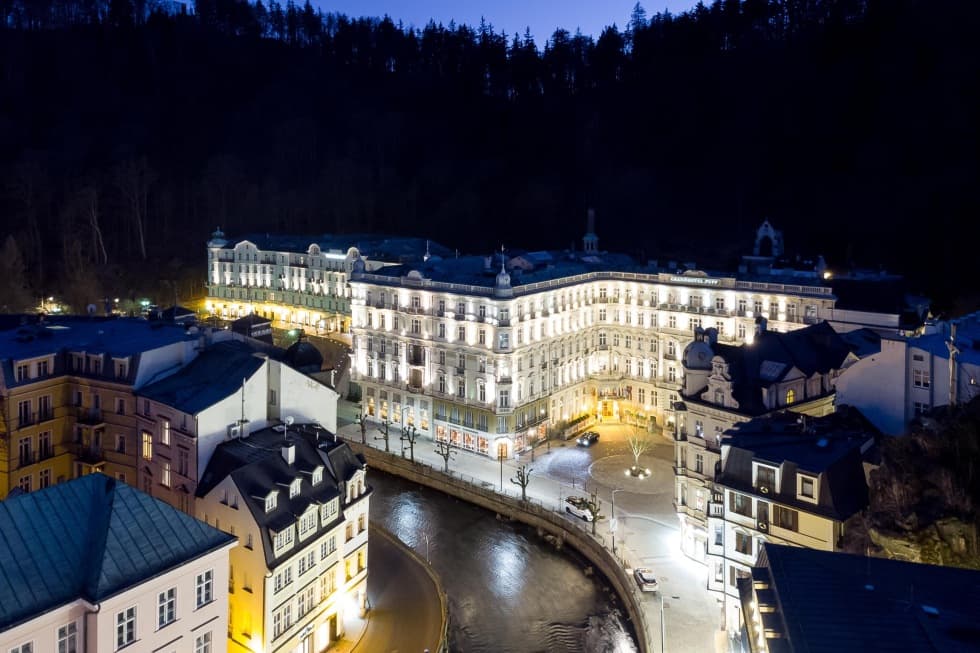 The unique atmosphere attracts filmmakers.
Stars of the Karlovy Vary Film Festival
Ornella Muti, Gregory Peck, Julia Ormond, Tim Robbins, Robert Pattinson, Barry Levinson, Trine Dyrholm, Rachel Shenton, Taika Waititi, Claudia Cardinale, Chris Overton, Casey Affleck, Gina Lollobrigida, James Newton Howard, Jeremy Renner, Lambert Willson, Uma Thurman, Andy Lau, Charlie Kaufman, Jean Reno, Willem Dafoe, Alba Rohrwacher, Ben Mendelsohn, Michael Douglas, Brendan Fraser, Harvey Keitel, Iva Janžurová, Jamie Dornan, Jena Malone, Marcia Anne Cross, Naoto Takenaka, Natsuna Watanabe, Oren Moverman, Richard Gere, Roy Dupuis, Tony Revolori, Udo Kier, Asia Argento, Fanny Ardant, Laura Dern, Mel Gibson, Michael Pitt, William Friedkin, F. Murray Abraham, John Travolta, Michel Gondry, Oliver Stone, Theodor Pištěk, Valeria Golino, Vojtěch Jasný, Aimee Mullins, Dario Argento, Helen Mirren, István Szabó, Josef Somr, Kara Hayward, Katarzyna Zawadska, Marta Gastini, Mike Rutzen, Nando Paone, Salvatore Striano, John Malkovich, Susan Sarandon, Taylor Hackford, Thomas Bo Larsen, Ashley Judd, Woody Harrelson, Franco Nero, Alan Alda, Carlos Saura, Burt Young, David Morse, Antonio Banderas, Goran Bregovic, John Turturro, Judi Dench, Magda Vašáryová, Sean Bean, Adrian Grenier, Jude Law, Micheline Presle, Nikita Michalkov, Scott Cooper, Hilary Bevan Jones, Karel Roden, Miloš Forman, Quincy Jones, Roy Marsden, Armin Mueller-Stahl, Danny Glover, Robert De Niro, Jake Paltrow, Michael Palin, Renée Zellweger, Andy Garcia, Danny Trejo, Eva Green, Jiří Kolbaba, John Irvin, Kim Ki-duk, Luc Besson, Saffron Burrows, Timothy Hutton, Tono Stano, Aňa Geislerová, Catherine Deneuve, Fairuza Balk, Gael García Bernal, Gerard Depardieu, Liv Ullmann, LL Cool J, Matt Dillon, Michael Madsen, Michael Pitt, Queen Latifah, Robert Redford, Sharon Stone, Ben Gazzara, Elijah Wood, Harvey Keitel, Jane Goodall, John Cleese, Liev Schreiber, Roman Polanski, Deborah Kara Unger, Jacqueline Bisset, Gus Van Sant, Morgan Freeman, Ben Chaplin, Jean-Marc Barr, Keira Knightley, Michael York, Orla Brady, Danny DeVito, Daniel Craig
Grandhotel Pupp as a film location
Filmmakers like to live in Pupp, but they also shoot here. Interiors and exteriors have been featured in countless Czech and foreign films, the most famous of which are undoubtedly the Casino Royale, a Bond movie with Daniel Craig and Eva Green, and the Last Holiday, a remake of an American film classic starring Queen Latifah and Gérard Dépardieu.