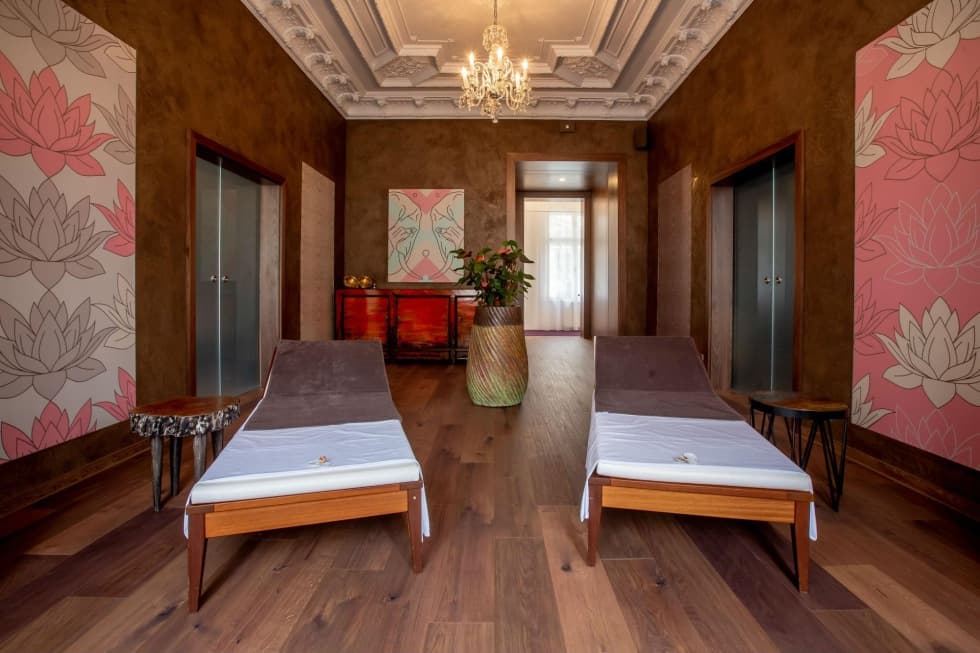 We'll pamper you
The Pupp Royal Spa offers a full range of beauty treatments within the Harfa beauty complex. This includes cosmetic care for the entire body based on the Pure Fiji luxurious natural cosmetics, Payot cosmetics facial care and the O.P.I. pedicure and manicure salon, which will ensure the comfort of your hands and feet, including professional Gelcolor.
Payot Paris luxury
face treatment
Payot, a brand of luxury French face care cosmetics, has been a synonym for spa and salon care since 1925. Its products contain only pure natural substances and have a beneficial effect on dry or sensitive skin or against wrinkles.
Liss Absolu: fine lines and wrinkles 90 min
The rejuvenating mask treatment for fine lines and wrinkles delivers a visible new skin effect that is regenerated and gently smoothed.
Lift Absolu: care for mature skin 90 min
Treatment with immediate effect and radiant skin.
Detox Absol: Unified Skin
Detoxifying procedure for unifying and brightening skin
Supreme Expiration: mature skin rejuvenation
Treatment for radiating and rejuvenating the facial skin.
Éclat Essentiel: relief for tired and greyish skin
Procedura dodávající pleti energii a zářivý vzhled.
Hydration Essentielle: hydration for dry skin
Luxury cosmetic treatment will give the skin freshness and suppleness.
Nutrition Essentielle: Nutrition for Dry Skin
Nourishing cosmetics will help restore skin and give it a velvety softness.
Pureté Essentielle: Deep Cleansing
Effective but gentle skin cleansing brings relief from acne problems and helps to prevent them and it is also suitable for healthy skin.
Douceur Essentielle: Gentle Care for Sensitive Skin
Cosmetic treatment to soothe and hydrate sensitive skin.
Optimale Essentiel: Men's Treatment 60 min
A regenerating and hydrating procedure tailored to the specific skin type.
Pure Fiji Wellness Concept
The Pure Fiji Pacific cosmetics, complemented by traditional body and skin treatments, are the foundation of the unique Pure Fiji Wellness concept, which brings perfect relaxation and regeneration to the entire body.
Sugar breeze from paradise 60 min
A procedure to cleanse the skin with sugar cane and stimulate and nourish new cells with a mixture of tropical nut oils.
Honey ritual against cellulite 90 min
The traditional natural procedure removes toxins and treats the skin of the lower body. The final Fijian soothing head massage also adds nourishment to the skin and hair.
Herbal detox wrap 90 min
The natural herbal procedure relieves stress and the impact of a polluted environment, stimulates blood circulation and metabolism and relieves the body of harmful toxins.
Cocoa bean wrap 90 min
Treatment with cocoa beans and coconut oil adds smoothness and softness to the skin and enriches it with the necessary minerals and vitamins, and the mind feels endless harmony.
O.P.I.Pedicure and
Manicure Salon
Professional pedicurists and manicurists with appropriate certificates will ensure that your hands and feet are perfectly cared for. Only professional O.P.I.products are used in these tretments.
Pedicure
introductory whirlpool bath - removal of hardened skin with a scalpel and file - peeling the sole of the foot - mask of the sole of the foot - nail treatment - treatment of the nail cuticle - varnishing with nutritious or colored with O.P.I. polish.
Manicure
Nail treatment with a nail file - hand bath - hand peeling - nail cuticle treatment - ophthalmic or colored O.P.I. polish.
Gelcolor
The professional manicure is complemented by a permanent gloss Gelcolor, with a high gloss and long-lasting effect without nail damage.