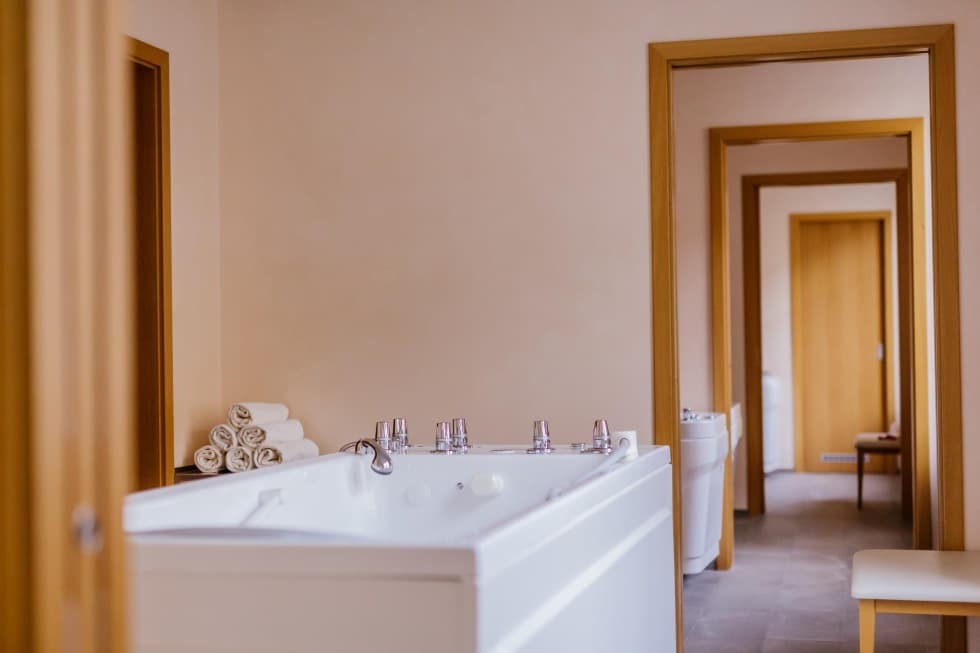 We charge you with health
and vitality
Entrust yourself to the care of an expert spa staff, and indulge in the ultimate in relaxation or complete spa therapy prescribed by a physician and tailored to you. Spa treatment in the hotel's balneo centre, health and relaxation massages and other treatments relieve many health problems and have a beneficial effect on the psyche. An integral part of the spa stays is the traditional Carlsbad drinking cure, also prescribed by the hotel doctor.
Therapeutic procedures on the recommendation of a doctor
It combines the effects of massage and warm baths. Special bath with jets massages different groups of muscles.
Small
An intensive long massage promotes the drainage of lymph and body fluids from the lower and upper limbs, effectively helping to break down cellulite.
Instrumentation
A shorter variant of lymphatic massage using a device that massages the whole limbs at once.
It focuses on the removal of pathological reflex changes in the locomotive system.
They have anti-inflammatory effects, regenerate damaged tissues, increase blood circulation, counteract pain and cramps and pleasantly warm up and relax muscles.
It has a significant effect on all chronic pathological conditions of the locomotive system, especially the joints.
A carbon dioxide bath leads to improved blood circulation, decreased blood pressure and total relaxation.
This gentle form of application of carbon dioxide by means of a special bag is also suitable for elderly patients and has the same effects as the water carbonic bath.
Applying a small amount of carbon dioxide to the subcutis or the trigger points, helps especially in spine and joint pain.
Electrical impulses cause muscle contractions that improve skin perfusion, strengthen muscle fibers, and break down fats.
It improves blood circulation, absorption of post-traumatic edema and hematoma and is also suitable for disorders of the musculoskeletal system.
Physiotherapy / Individual Gymnastics
Exercise under the supervision of a rehabilitation worker, focuses on the removal of pathological changes of the locomotive organs.
It is suitable for chronic musculoskeletal problems, for accelerating healing of skin and subcutaneous lesions and post-traumatic and post-operative conditions of the locomotive system.
The high-frequency magnetic field positively affects musculoskeletal disorders, fractures, circulatory disorders, osteoporosis, etc.
It suppresses chronic inflammation, dissolves calcium deposits, stimulates collagen production and creates an optimal healing environment.
Baths, experiential massages and wraps can be ordered without a medical recommendation at the reception of the Pupp Royal Spa.
It relaxes muscle tension, accelerates blood circulation and thus improves local metabolism and oxygen supply to tissues.
total 50 minutes
partial 20 minutes
It combines the positive effects of hand massage and aromatic oils, whose essence has a beneficial effect on the central nervous system and the whole body.
total 50 minutes
partial 20 minutes
The traditional Asian massage is based on the assumption that nerve endings are present in the soles of the feet and palms, which are related to the internal organs.
Franzisca herbal relaxing bath
A unique relaxation bath containing a mixture of selected hand-picked herbs, is a reminder of Franziska Pupp, the wife of the hotel's founder.
It uses the effect of a warm bath and the action of herbs, which are selected according to a particular health problem.
Its micro-massage with air bubbles, helps to improve blood circulation in the skin and overall relaxation of the body.
The luxurious anatomical bathtub with its unique design and a large number of water and air jets, ensures maximum comfort and superior massage effect.
It helps with blood circulation, and relaxing massage and warming of the upper and lower limbs.
Precise vibration stimulate regeneration processes and metabolism in cells and effectively helps to control body weight.
The local biostimulatory effect induced by light energy, accelerates regeneration processes and shortens the healing time after injury or medical intervention.
Inhalation of 40% oxygen with a two-way nasal tube increases oxygen supply to the tissues, thereby eliminating fatigue and improving overall fitness.
It help with blood circulation and warming of hands at low pressure, loosening joints during rheumatism or softening of hardened skin.
Nasal or oral inhalation of Vincentka mineral water in the form of an aerosol is recommended for diseases of the upper and lower respiratory tract.
Infrared radiation intensively penetrates into the skin and has a beneficial effect on musculoskeletal disorders, respiratory tract, and overall immune system and vitality.
It has beneficial effects on respiratory diseases, thyroid insufficiency, high blood pressure, dermatological diseases, nervous system disorders and fatigue.
The guest lies on an impermeable elastic membrane, to which water jets from below massage. This procedure complements or completely replaces classical massage.
Peat bath and colloidal gold face mask
The beneficial power of the Krušné mountains peat acts on the whole body and brings pleasant relaxation. The colloidal gold mask has an antiseptic and soothing effect on the facial skin.
Peat bath and hemp oil face mask
Relieves joint pain, relaxes muscles and has soothing and antibacterial effect. The hemp oil mask regenerates and nourishes the facial skin.
Private Suite Pupp Royal Spa
Luxury private spa suite with spacious hot tub and Finnish herbal sauna.