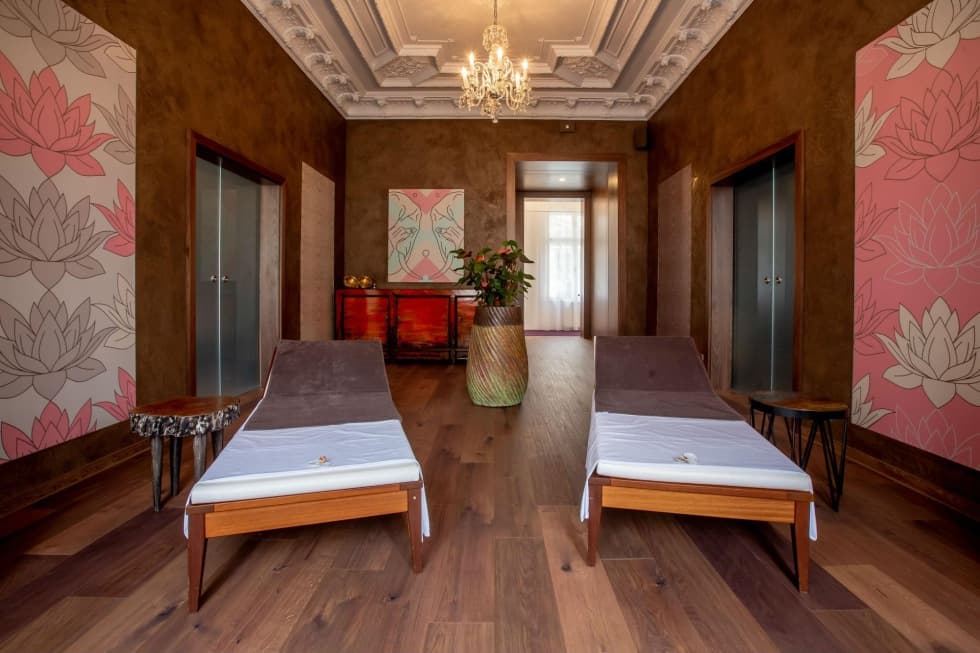 We'll pamper you
Ayurvedic massages are based on ancient Indian doctrines and aim at total relaxation, support of blood circulation, detoxification of the whole body and its balance. In addition to the massage technique itself, special massage oils are selected to be beneficial, both according to the desired massage effect and the constitution of a particular person.
Abhyanga 60 or 90 minutes
Traditional oil massage in which warm oil enriched with medicinal ingredients is rubbed into the skin of the body. It brings a pleasant feeling and perfect relaxation, strengthens immunity and has a positive effect on the quality of sleep.
You can choose a 60 or 90-minute variant, or a 60-minute double massage, where two masseurs or masseuses will take care of you at the same time.
Shirodara 90 minutes
Shirodhara is a healing and relaxation technique used for over 5,000 years with the purpose of to establish complete mental and physical balance. The initial intensive massage of the whole body is followed by a massage of the area of the "third eye" with warm oil.
You can choose the classic variant or a double massage, where two masseurs will take care of you at the same time.
Pindasvedan 90 minutes
The relaxation procedure which has a rejuvenating effect for the whole body combines both hand massage and massage with linen bags filled with a nourishing herbal mixture. This massage warms the skin, opens the pores and thus effectively stimulates the removal of harmful substances and the deep absorption of nutrients.
Children's massage (from 6 months) 20 minutes
Traditional Sri Lankan baby massage is done using virgin coconut oil, which is also suitable for sensitive baby skin. It focuses on the arms and legs, but mainly on the back and neck, as its main mission is to strengthen the spine, the basic support of the entire body.
Hot stones 60 or 90 minutes
This queen of massage combines the effects of a unique massage technique with the effect of hot stones and herbal oils. The heat relaxes the skin and muscles, allowing a particularly deep soothing massage that relieves head, neck and back pain.
Opening hours
Reception: 8.00 – 20.00
Swimming pool: 8.00 – 21.00
Sauna and Steam room: 9.00 – 21.00
Fitness Center: ​​​​​8.00 – 21.00
Procedures: 9.00 – 21.00
For children under the age of 12, access to the spa is only permitted until 18.00.