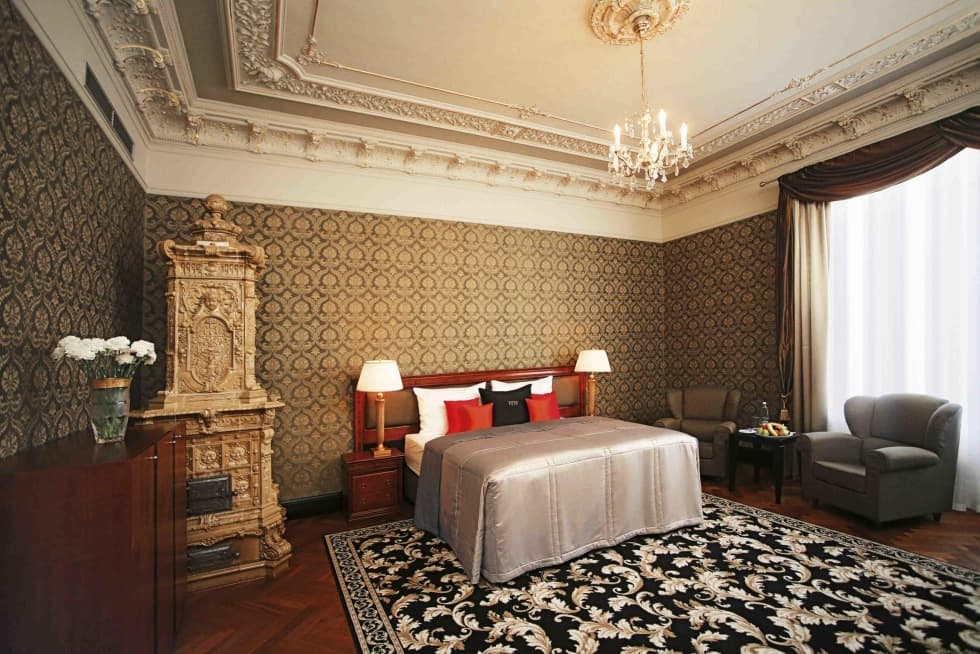 Pupp offers three categories of original and comfortable suites with a separate bedroom and a large bathroom that will delight you with luxurious interiors and a unique atmosphere.
The cozy rooms of the Single, Comfort, Superior and Superior plus categories vary in size and equipment. They are especially suitable for short stays and for participants of conferences and other events.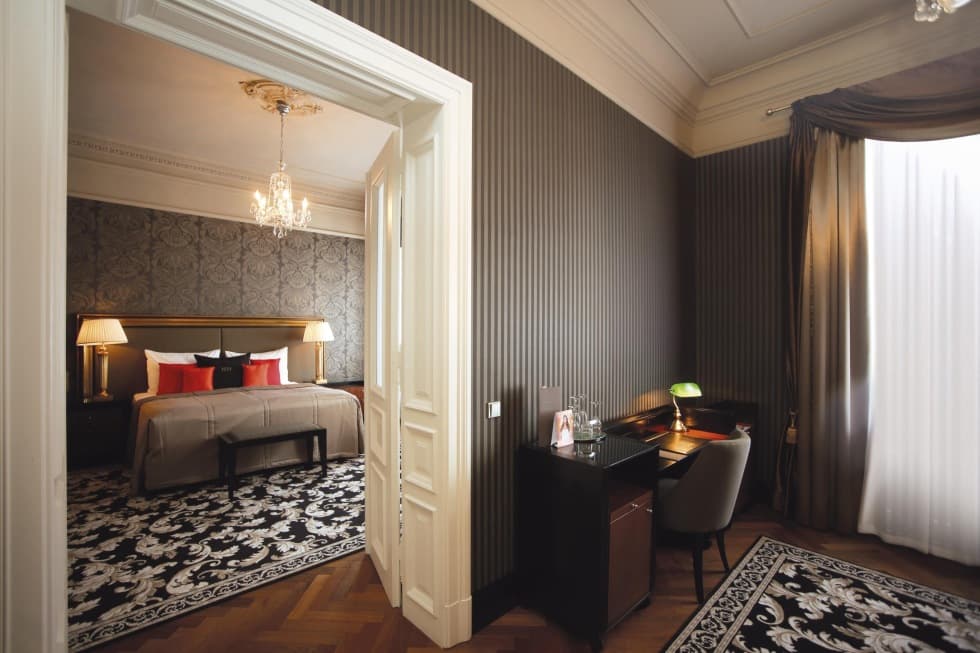 As for luxury, there is no point in making compromises.  It has a spacious bedroom and a stylishly decorated living room with stucco ceilings and a balcony, a river view with a spa promenade and a luxurious marble or fine bathroom with a bath, shower and a bidet.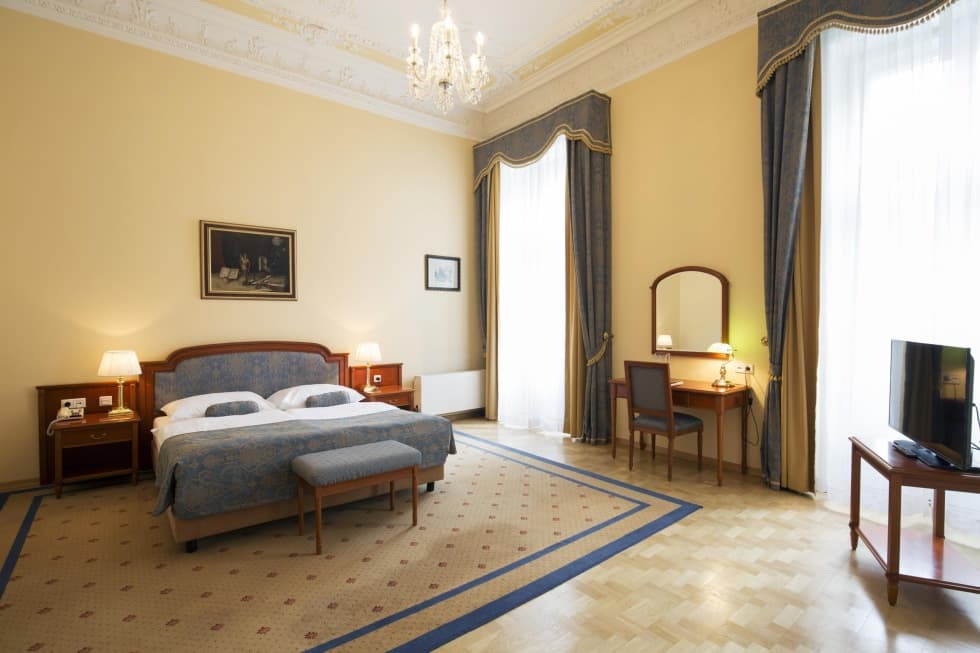 Surprisingly spacious two-room suite with a bedroom and a living room, an area of about 80 sqm, a view of the spa promenade and the river, a luxurious marble bathroom with a bath, shower and a toilet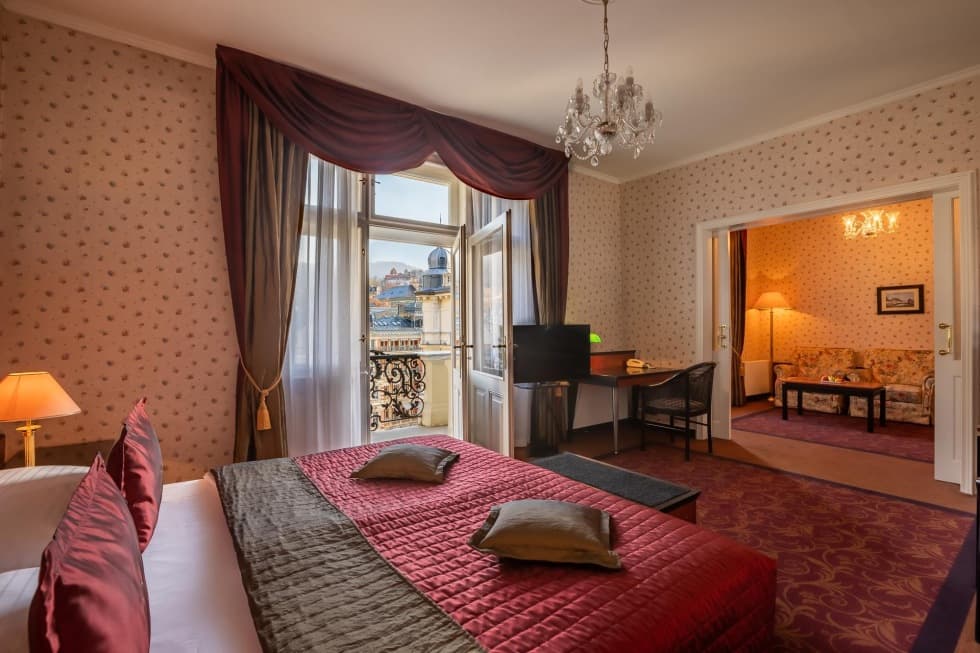 The individually decorated suites with a surface area of around 50 sqm will inspire the traditional elegance of the hotel. A comfortable living room is always adjacent to the large bedroom and of course there is a bathroom with a bath or shower.
Each suite has a large bedroom, a luxurious bathroom and a stylish living room with spectacular views. The Imperial and Presidential Suites, represent the real pearls popular among the most important ofguests.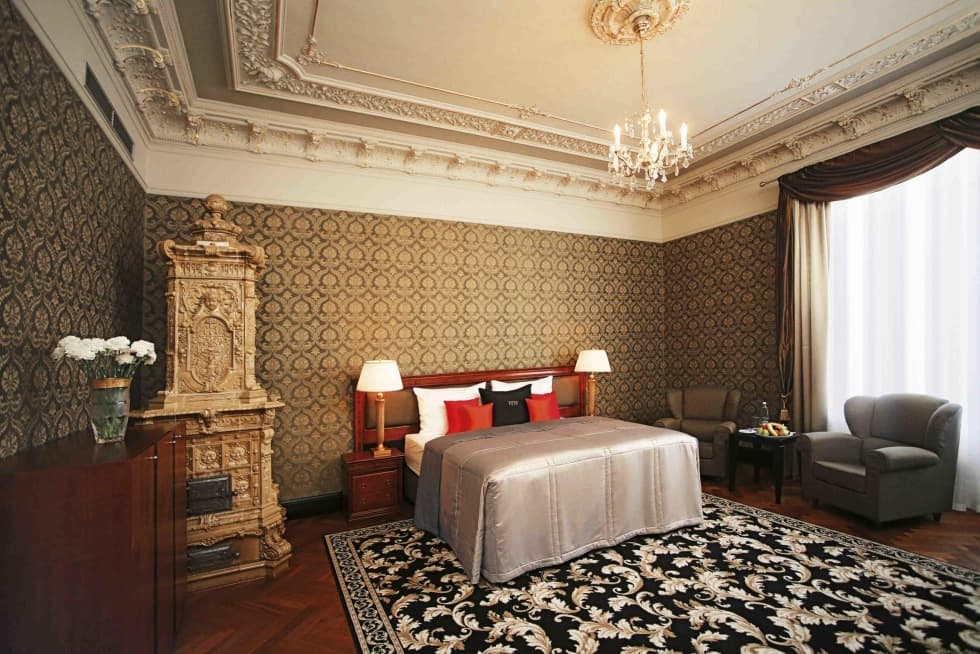 Space, luxury and privacy; these three words perfectly describe the real pearl of the Grandhotel Pupp. The 130 sqm presidential suite features a spacious bedroom, a living room, a separate dining area and a unique marble bathroom with bathtub and shower. It also boasts stucco ceilings in all rooms, a large balcony and stunning views of Karlovy Vary. It regularly hosts the most important visitors of the hotel, the largest stars of the Karlovy Vary Film Festival and many other important personalities.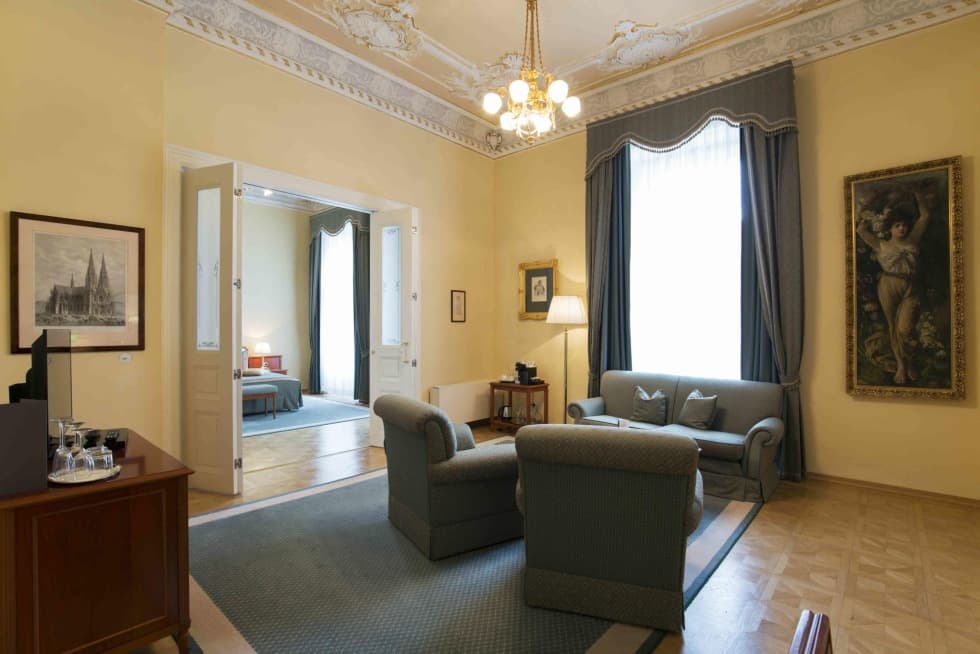 The most famous suite of the Grandhotel Pupp got its appearance more than 100 years ago, when the hotel hosted Franz Joseph I., the Austro-Hungarian Emperor. Since then, it has been dedicated to hundreds of distinguished guests. The living room with its original tiled stove, which is the heart of the apartment, has a balcony with a beautiful view of the park and spa promenade. The spacious bedroom and a unique original marble bathroom from the late 19th century complements the atmosphere of the suite.
All rooms meet the five-star standard, with 24-hour room service, dry cleaning and shoes shining, free access to the unique Pupp Royal Spa and other services.
ATM
Bar
Swimming pool
Daily Press
Pets (surcharge)
Secured parking
Air conditioner
Airport shuttle (surcharge)
Non-smoking areas
Hotel shops
Room Service
24-Hour Front Desk receptionist
Restaurant
Elevator/lift
Free Wi-Fi
Business Facilities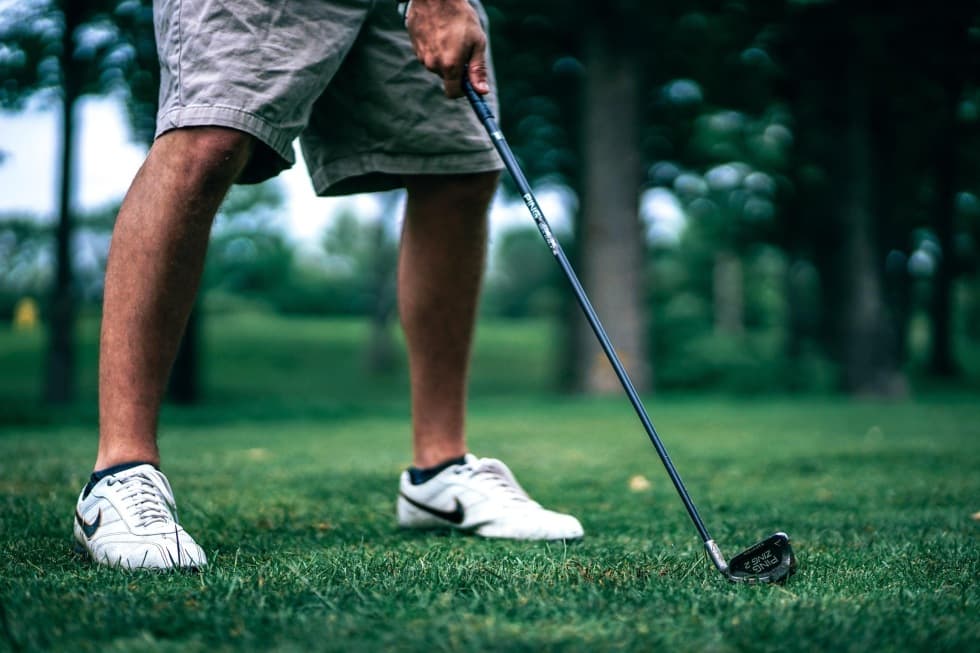 Neopakovatelný zážitek spojující golf na nejstarším hřišti v Čechách s luxusem legendárního Grandhotelu Pupp! Golfový balíček zahrnuje green fee, komfortní ubytování, relax po hře a ještě něco navíc.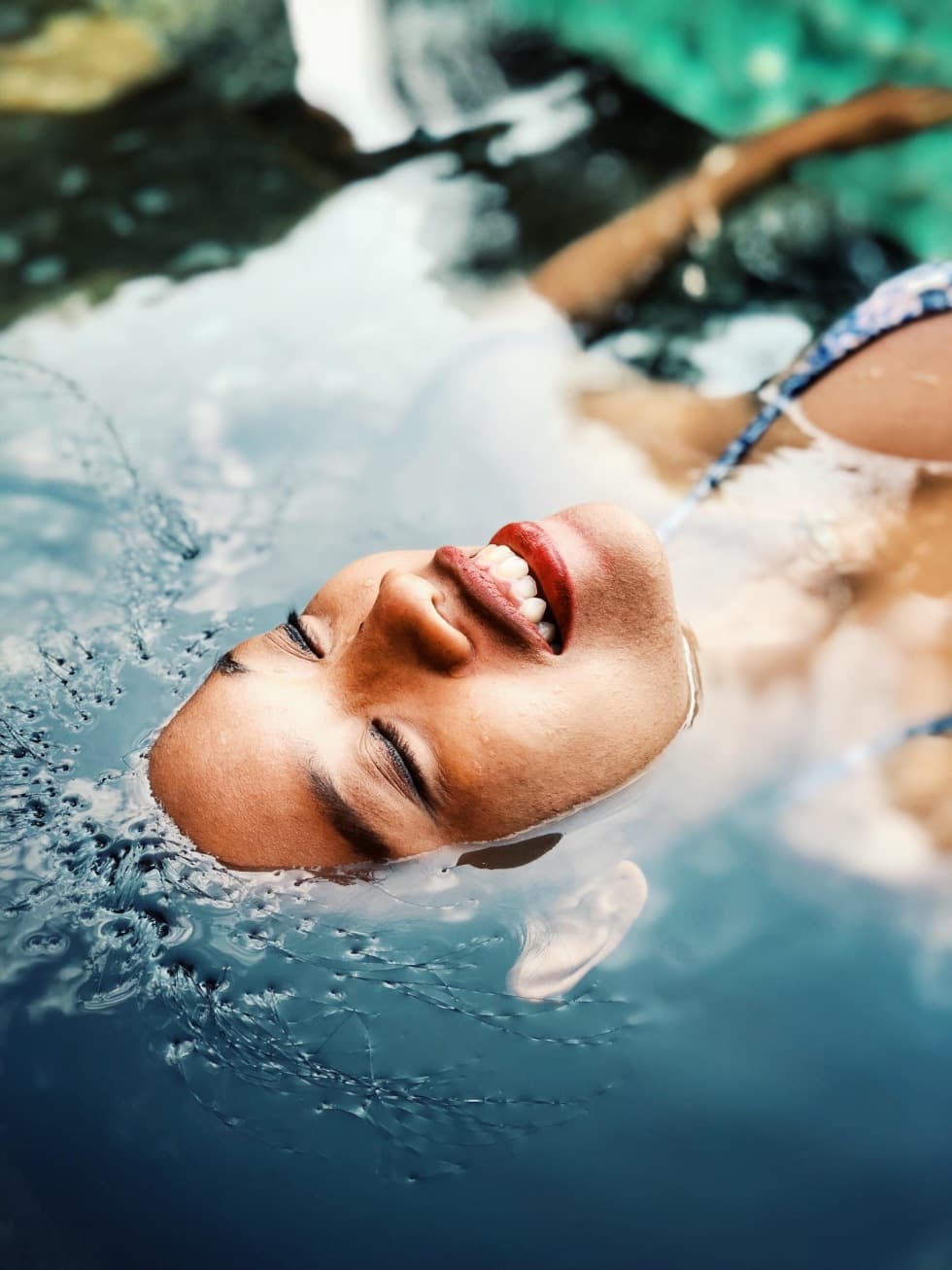 Relaxujte v Pupp Royal Spa, ponořte se do slastné bylinné koupele dle Franzisky Pupp a ochutnejte degustační menu našeho šéfkuchaře. Díky dárku v podobě originálního lázeňského pohárku z porcelánky Thun vyzkoušíte i léčivou sílu legendárních karlovarských pramenů.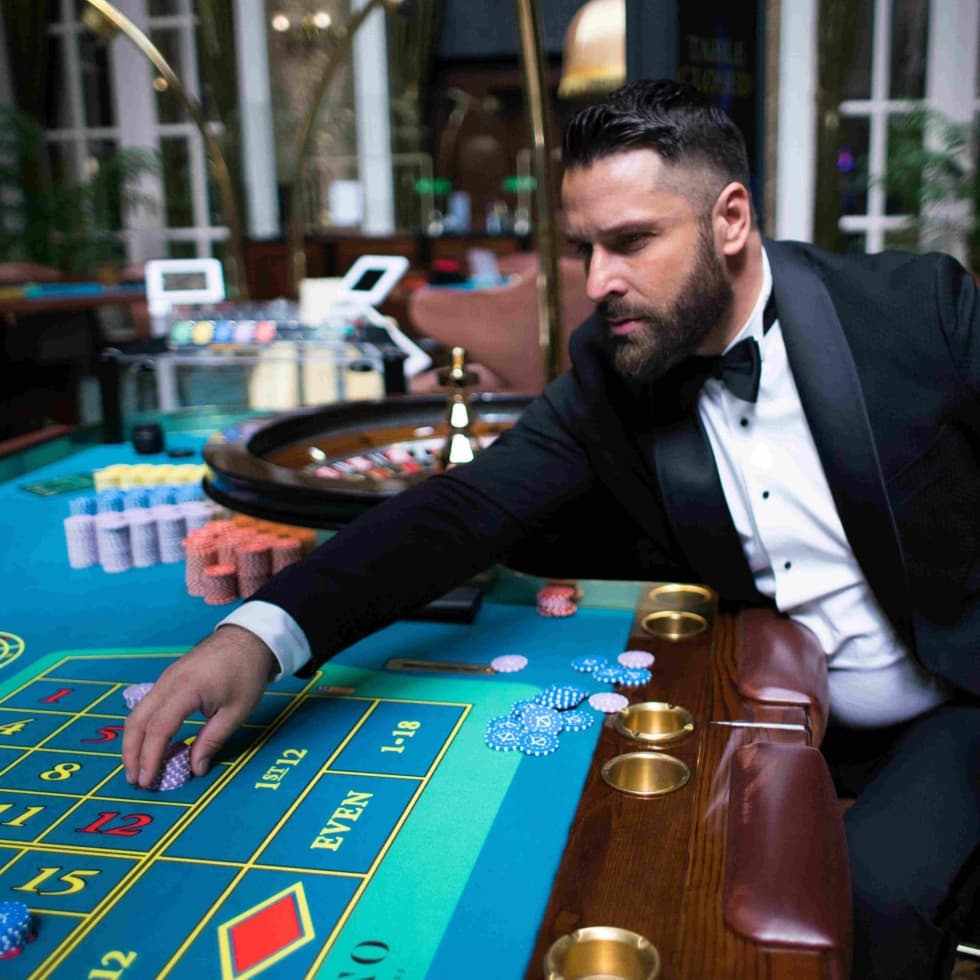 Zažijte Karlovy Vary stejně jako agent 007 a Vesper Lynd v bondovce Casino Royale; čeká na vás exkluzivní ubytování, privátní spa, koktejl Vesper namíchaný přímo na pokoji a spousta pravé bondovské atmosféry. Upozorňujeme, že povolení zabíjet není součástí balíčku.